365 DAYS WITH A COURSE IN MIRACLES:
LEADING US HOME FROM OUR HEAD TO OUR HEART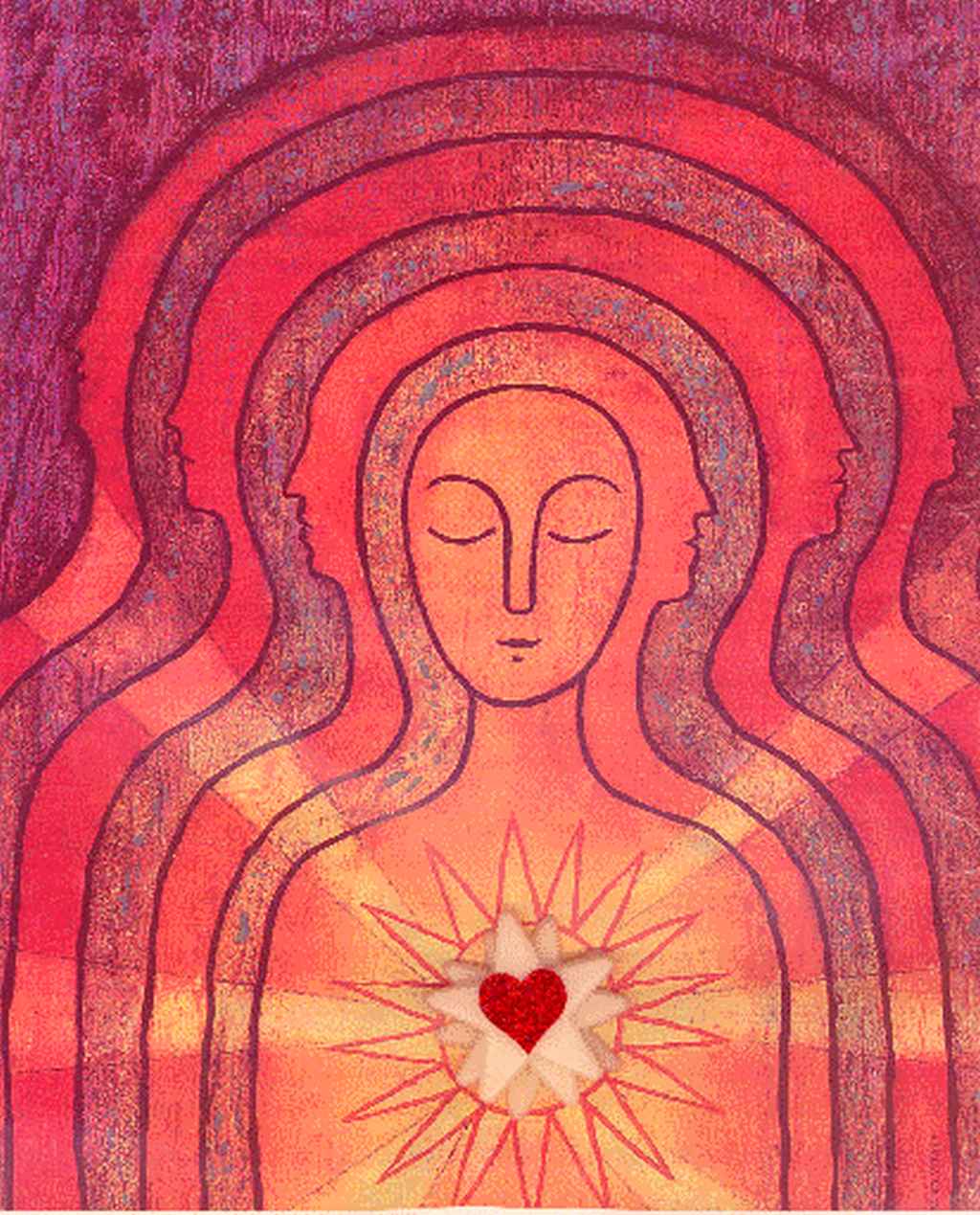 I have come home to my heart through a simple daily practice of forgiveness and correction with the Holy Spirit. It did not come easy, however, and took me over half my life.
For the past seven years I have journaled each one of the 365 Workbook Lessons from A Course in Miracles (ACIM). Together, with the Holy Spirit as my Constant Companion, I have been guided to understand and apply each one.
I began to study A Course in Miracles in the late 1980s. Every year I begin the practice in January. I never made it past March, though. Feeling disheartened and hopeless about ever making sense of this pp book, let alone applying the wisdom which I trusted it held. I had to keep studying, however, because ACIIM was my only hope.
LESSON 330: WE ARE DOING THIS TO OURSELF
Having struggled with debilitating lifelong issues that ranged from emotional, mental, social, physical, to other issues, led me on a hunt to study every form of healing I could get my hands on. I even designed a few modalities of my own! Eventually, I did get it! Through the Internet I learned about Lisa Natoli, who created a basic 40 Day ??? which enabled me to grasp the basics of the the course. Her teaching was like training wheels for a beginning bicycle rider. After two trip with Lisa on the 40 Day ?? I was able to continue reading ACIM on my own. That was seven years ago. I wrote out copious notes as the repetition enabled more of its message to sink in to my very resistant mind. Reading and practicing each lesson with my Guide, then writing out my notes moved me to an entirely different location in my life.
A Course in Miracles is not something to be learned, but something to be lived. I had heard and read that from the authors I followed and considered to be my mentors. It included a wealth of authors from the heyday of spiritual awakening during the 1980s. Louise Hay, Alan Cohen, Terry Cole Whitiker, Sondra Ray, Wayne Dyer, Jerry Jampolsky, and on and on.
LIVING PRINCIPLES FROM A COURSE IN MIRACLES
I have trained my awareness to observe my thoughts and emotions for signs of not being loving, accepting, or forgiving. I no longer beat myself up, but I bring my wrong minded thoughts to the Holy Spirit and ask for a correction of my thoughts and a healed mind. This is healing at the level of energy, the only level where change or healing can occur.
I have learned to accept total responsibility for where my life works, and where it does not work. No one is to blame for anything that happens to me. If it is in my life, I put it there. Everything in my life exists for a purpose of my awakening. If it does not serve God, then it is there to be forgiven. As I forgive, I awaken from my ego mind's dreams to the truth about who I am in God. Overcoming my mind's resistance to taking this much responsibility for my life took quite some time.
I recognize that forgiveness is my purpose on earth. When I forgive I am not making errors nor am I making illusions appear as real. I express forgiveness as way of learning to accept and correct my perceptions. If what I see is less than perfect love or innocence in myself or another, then I am seeing what is not real but what my small-minded ego self thinks is real. I forgive myself for projecting the errors and I become willing to withdraw my projections. I ask the Holy Spirit to interpret for me what my body's physical eyes see. I know that when I can see perfect love and innocence then I am seeing the energy of God's love being reflected.
A COURSE IN MIRACLES MENTORING
We were created as whole and perfect spiritual beings that have the same power to create as God, our source. On our own, many of us have been using God's power to create hell. We blame too easily and quickly forget that we created our own hell. We believed that our problems and the world were real. We saw ourselves as lonely victims, abandoned and separate.
A Course in Miracles is the only modality that has the ability to reverse our ego's wrong-minded habits of thought that accept the realties of fear, separation, evil, sickness, etc. Practicing the 365 Workbook Lessons gives us a clear map home to another reality, the energy of God's love in our heart. ACIM is designed to lead us away from believing that illusions we see are real or true. Slowly, over the course of one year we awaken to the awareness that the energy of God's spiritual love is what we are, in truth. ACIM is a map with a personal Guide built in to it. This internal guide instructs us about how to listen to and follow the deep and subtle inner wisdom that seems to hide within us. This wise self is the voice of God. Our Father always knows where we are, where we are going, and how we can get there. We only need to cooperate with our guide by aligning with it, to join it and acknowledge its constant presence and power.
LEARNING TO SURRENDER
A map is useless when we fail to use it. It also will not work if we make a decision to stop using the map we have been given in favor of making our own map. We can dream about our destination. We can "think" about how great our life will be someday. In order to make the journey, however, we have to start the engine and continuously drive each day in the direction the map is telling us to go.
Yes, we wish the journey was shorter, easier, clearer. We wish our bodies were healthier, thinner, and less tired. We wish the bills were already paid off so we could save for that car repair, or find the community of loving, happy, and supportive relationships we keep looking for. We want a reserve of money so we can quit the job and have more time to do the work we love.
Our wishes and more can all come true, after our ego mind's wrong-minded thinking is purified. A Course in Miracles will guide us to question all of our beliefs. Our mind's mistaken perceptions and ideas must first be undone by the Holy Spirit. The promise of permanent change and a flow of unending miracles if we are willing to practice the 365 lessons for one year. If we fail to practice, not much will change, we already know what we will receive.
DAILY PRACTICE OF A COURSE IN MIRACLES 
Daily study of the 365 Workbook Lessons in A Course in Miracles is intense. In one year, or in seven years, we will be led home to our heart. It will change or affect every aspect of life. From unearthing the dark shadow of our repressed parts, to alleviating a lifelong battle with depression or grief, from receiving direction to our unique purpose, to learning to stop reacting and be more detached from worldly problems, challenges, and distractions, to connecting with the Universal Divine presence, and so much more. Even if our struggle is longstanding, our age is over the hill, or if we ignored our health's signs, or our soul's stirrings.
If you feels drawn to this path of healing and living, give yourself the gift of a year. Together, we will follow the map as it takes us on a journey from the chatter, insecurity, and head-tripping in our mind to the peacefulness of love, light, laughter, and life within our heart.
If you feel called, then telephone 347-NRG8GRN (347-674-8476),  or email here, for additional information.
Payment per Mentoring Session of One Hour is $35.00
Gloria Nash, MA, MS, author of "MY CONSTANT COMPANION: 365 DAYS WITH A COURSE IN MIRACLES" is available for private sessions, click here
To gain the most from the 365 Lessons, it is recommended to read the Workbook lessons of the Second or Third Edition of A Course in Miracles, published by the Foundation for Inner Peace.   BUY ON AMAZON
Gloria R Nash, M.S., M.A. is a spiritual growth coach, mentor, student and teacher of A Course in Miracles. Visit https://www.NRGGRN.com to read more and purchase Gloria's new book, MY CONSTANT COMPANION: 365 DAYS WITH A COURSE IN MIRACLES. Find out more about Gloria's work with energy and "A Course in Miracles" at https://www.GloriaRNash.com.
DISCLAIMER: If you are in crisis in the USA, please call 911, or call the National Suicide Prevention Lifeline at 1-800-273-TALK, or go to the nearest emergency room. For assistance outside the USA, please go to the nearest emergency room, or visit International Association for Suicide Prevention or Befrienders Worldwide to locate a crisis line. Although I am a counselor by training, the services I provide here are solely coaching and mentoring services, not therapy. If you are seeking mental health treatment, I would be happy to refer you to a licensed clinician. READ FULL DISCLAIMER HERE