N R G®  COACHING FOR MIRACLES, GROWTH, & ENERGY
Coaching miracles for growth and energy lets us make choices guiding us to be aware of our invisible spiritual energy. That is how we connect to our authentic health, happiness, and success.
Becoming swept away be our our emotions, stressful challenges, or petty grievances causes us to struggle.
We grow when we hold an intention to uncover the gifts that exist in each challenge we face.
HI, I'M GLORIA NASH!
Coaching Miracles for Growth and Energy in New York City, lets me guide people in creating a high quality of life. We can always access our natural energy of inner wisdom to live with purpose, meaning, joy, and fulfillment. I have been a lifelong student of Eastern Spirituality and Western Psychology, with a passion for sharing what I learn with other people. A fascination with all forms of energy, including spirituality and emotions, has been mine, long before I discovered the initials of my name backwards spells, NRG.  
I guide people to let go of their stories to create better lives, with happy endings. Stories of pain and distress are like a glass of water. Think about it sometimes and nothing happens. Think about it all the time causes us to experience sadness and depression. It brings us feelings of being frozen, stuck, and in pain. Emotional wounds cause us to react to life's abundant flow by freezing, avoiding, withdrawing, and occasionally, enjoyment. The first three response styles create anxiety, depression, panic, dissociation, addictions, stress, etc. Only the fourth response of enjoyment with what is present can create happy feelings.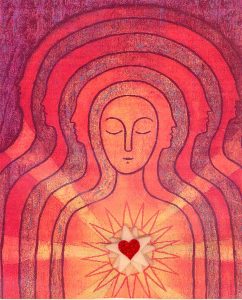 IT'S NOT TOO LATE TO PUT THE GLASS DOWN TO CREATE HAPPINESS!
People I coach for miracles of growth and energy have learned to stop paying attention to thoughts and feelings in their mind, and instead, focus on the energy in their heart, where our "wise mind" lives. This is challenging if someone has a long-standing habit of living in their head and letting emotions be in control. Society teaches us it is easier to withhold love than surrender to the spiritual energy of love always present within us.
Overwhelming challenges and chaos are calls from our soul asking us to tune in to our inner guidance. This helps us to stop aligning with our mind. We practice listening within to tap into the inner love and strength we buried long ago, in the past. Strengthening our connection to the invisible but powerful force of spiritual energy has the power to create miracles.
WHAT IS NOT WORKING FOR YOU NOW?
Have you ever paid too much money for long therapy sessions, yet nothing changes except lowering our bank funds?
Are you prone to buying and reading one book after another, or attending pricey workshops, but again, nothing changes?
Self-help books tell us to change our thinking so our life can change. Not so easy, is it? Repeatedly talking about and trying to understand the past are the booby prizes that make us feel worse, not better! Expensive workshops and therapy do little to heal our mind. We cannot find enlightenment on a mountaintop after 40 days, or 40 years. When we finally have enough of staying silent, riding the emotional roller-coaster, or feeling socially crippled, we will get to the root of our mental, emotional, and physical pain. What we usually find are stories of dissatisfying jobs, finances, health, relationships, etc. We play out our unhappiness through our closed heart, judgmental mind, isolating behaviors, depression, addictions, eating disorders, poverty, illness, and other challenges.
WHAT IS WORKING FOR YOU NOW?
If you are sick and tired of struggling and suffering, please know that you can and will find peace. Accept your frustrations and forgive your pains. Let me guide you to unearth and nurture the seeds of divine intelligence that are buried within you. As you tune in to your inner guidance, answers you once struggled to find will effortlessly and miraculously be revealed to you.
When stress and adversity arise I will share effective, growth-oriented ways to handle them. You can live more authentically, knowing clearly what you want to stop doing, what you want to start doing, and who you want to do things with.
Coaching you for miracles of growth and energy provides you with guidance and mentoring on the long journey from your head to your heart. Increasingly, you will have trust more in your self and in the energy of your own inner wisdom to guide you.
It does not matter how old you are, nor how many years you have been dragging around the heavy baggage of the story of your life. Each one of us always has the means to achieve a Happy, Abundant, Valuable, and Energizing life if we follow what lights up our heart, inspires our mind, and nurtures our soul. Growth and energy always bring us miracles where we can thrive and bloom!
LET'S LOVE, LAUGH, LIGHTEN UP, & LIVE!
Whenever life challenges you, please know at anytime you can grow a better life. Buried within each of us is a map leading to the strengths and love we buried long ago. Let spirit be our constant companion to guide us away from mindless habits to the "wise mind" of love within, which is the greatest power that exists. Get out of your comfort zone to live the life you only dream about. You may be a late bloomer, but it is never too late to realize who you are and express the potential which is already yours!
Love and Blessings,
Gloria
MY COACHING INSPIRES YOUR  SPIRITUAL GROWTH AND HEALED ENERGY 
GLORIA R

NASH,

MA, MS  credits the book, "A Course in Miracles" (ACIM)  as the key to her healing when nothing else worked. In her  forthcoming book, "My Constant Companion: 365 Days with A Course in Miracles Made Easy!" she shows others what makes ACIM so special to so many people. Gloria designed a year-long program guiding people to heal their mind and open their heart. She is also author of the forthcoming book, "I Am Not a Guru: 108 Easy Steps Anyone Can Take to Build a High Quality WordPress Website!" Gloria is dedicated to inspiring people to live their best emotional, mental, physical, and spiritual life. She has witnessed many of her own limitations and problems dissolve. She offers original and creative services and products that support people and organizations to live on purpose and express their potential to create miracles of growth and energy. Gloria is committed to resilience, growth, resourcefulness, and persevering in overcoming the significant adversities and unhealthy reactions she expressed for decades. Gloria's life story was noted by many people including the late expert and pioneer of resilience, Dr. Al Siebert. As a Coach creating Miracles through Spiritual Growth and Energy in NYC, Gloria guides people to heal at the level of energy. She holds Masters Degrees in Psychology and Education, is a member of Phi Beta Kappa, and passionately loves music, photographing vintage signs and diners, the ocean, and triple jumping..